A VoIP subscription with 8×8, Inc., is not an easy thing to walk away from…really, it's difficult to just walk away unscathed. There are several things that customers should know, and likewise, several things they may not when deciding to cancel. In fact, cancelling service with most phone providers is a delicate process and it really pays to know what you might experience. Knowledge is power – in this case, it's money saved. 
First point of discussion is, my monthly charges, which are about $24 plus $10 in tax, equaling out to roughly $34 per month. It's a great rate for an unlimited extension, but is one that I will have to stick with over the course of the next year. Let me tell you exactly why, including some information that came as a surprise. This info is best conveyed in list form, which is better translated generally rather than speaking specifically about my own experience. Still some particulars will apply, so bear with me:
1) Returning Equipment: If unsatisfied with your service, be sure to cancel within the 30-Day Trial Period to ensure a full refund for equipment. As we have passed beyond the 30-days (Account Effective in Early July '12), the Polycom IP550 is now – officially ours. 8×8 will not refund the purchase of the phone since this time period has expired, and although I was informed with exuberance that the phone was mine, I can't say I totally concurred with the sentiment. Everyone might have their various reasons for cancelling, but by all means, be aware that hardware from 8×8 is non-refundable exactly 30 days from the initial subscription. This is not flexible, and rest assured that the answer will be a definitive "no".
Prior to returning equipment to 8×8, they will provide you with an authorization number, giving the green light on sending it back, acknowledging their acceptance. Note that activation fees won't come back, and if you are sending back equipment, it must be in the original packaging with all included contents. Also, the equipment must be at 8×8's doorstep within seven (7) days of the cancellation, so don't sleep on getting it back to them.
2) Disconnection Fees: A big one, so pay attention here. The monthly charges mentioned above are as named, month-to-month. That is, there were initial fees to start-up (many of which were generously waived – in fact, we only paid for the phone, shipping, plus tax), and thereafter, the $34 dollars would be as desired. The thing to note here, is that the monthly rate in which you are discounted is for the next 12 months, and as such, cancellation earlier the finish of that first year will incur disconnection fees.
Following the expiration of the Trial period, if a subscriber terminates their fax or voice services within twelve (12) months of their initial purchase of either service, Disconnection Fees will apply. To cancel our one extension, we were looking at a disconnect fee for the voice line ($59.99), in addition to the associated virtual number ($9.99). Altogether, it would come out to just under $70, and this amount would be charged to the company credit card as soon as I hung up the phone. For users of 8×8's video services, be forewarned that cancelation prior to the end of the 12 month period of your video services will run you a quick $99.99. As if that weren't enough, those who might have enjoyed a limited-time offer from 8×8 or a rebate on equipment, may face another fee if cancelling within this "red zone" between the trial period and a year of service. This charge however, I do slightly understand, since getting a highly discounted phone and flipping it for profit isn't beyond the contemporary bandit.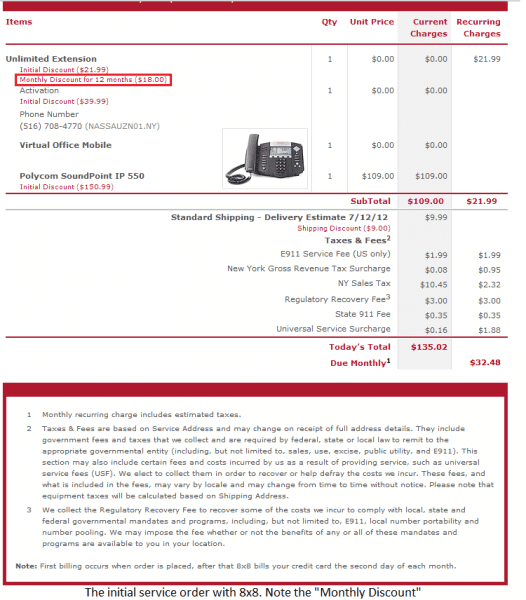 After all is said and done, fees for disconnection aren't a surprise, but it is surely something many potential subscribers may overlook. Pictured above, is the Service Order from 8×8, which included all the initial charges to get started with their service. Highlighted within the red square, is the implication that the discounted rate was essentially an agreement to remain with them for at least a year. Though we were never issued a traditional contract, signing on with them for this price was just as good as one.
For argument's sake, if you're looking to cancel after a year and your subscription started January 1st – be sure to notify 8×8 of the cancellation before the start of December. 8×8, Inc. requires 30 days notice before cancellation, so rather than playing with fire and risking a renewed year or penalties, cover all bases by making your movement to cancel loud, clear, and early.
3) Porting Your Number: If you've established the number you've had with 8×8 for your business, it goes without saying that you'll want to take it with you. The process gets a little dicey, but with vigilance, you'll be just fine. There are several steps involved in going forth with this process:
Getting in touch with a sales rep, notifying them of your wish to port the number(s) – a related account will be created
The subscriber will be provided w/ a temporary number(s) (It takes 2-3 minutes to submit the info/populate temporary numbers)
Next, the subscriber must then enter a GUI on 8×8's site, where they will provide information (i.e. their address, number, etc.)
This info will then be transferred over to the incumbent/current provider, who has 72 hours to approve the info and make sure it matches. (A caveat to this process, is that this step may in fact end up taking about 2-6 weeks, so to minimize porting time, make sure that information provided through the interface is 100 percent accurate)
Finally, while you wait, calls to any of your business numbers "in limbo", awaiting approval, will be forwarded to a number of your choice. In other words, any calls to your extensions in convert go straight to your cell, office phone, what have you.
Once approved, and both companies are in agreement, you'll see the numbers start to port. This entire process is free and without cost.
​Final Thoughts
In retrospect, it is better that the representative informed me up front of the fees that would be incurred with cancelling today. Rather than pull a giant, metal lever, eliminating my subscription immediately, she took her time and informed me in the same manner a doctor would of the "bad news". While cancelling, companies generally do what's best to protect themselves and their interests, while customer needs might fall by the wayside if they aren't careful. This is easy to understand and maybe even sympathize with as an enlightened consumer. 8×8's cancellation policies aren't especially harsh – but they do contain some stringent guidelines. It is my hope that this piece shed light on a dark subject, and held a magnifying glass up to that pesky fine print.