Adding some velocity to the Vocalocity series, I hit the gas on my membership by setting up the Grandstream GXP2020 with their service. This process was relatively simple, only taking a little longer than expected. Of course, this had more to do with the phone and that it wasn't so apparent to me at first how to enter alphanumeric symbols on the keypad. Vocalocity on the other hand, were really wonderful and their friendly support staff was incredibly patient and knowledgeable throughout the entire process.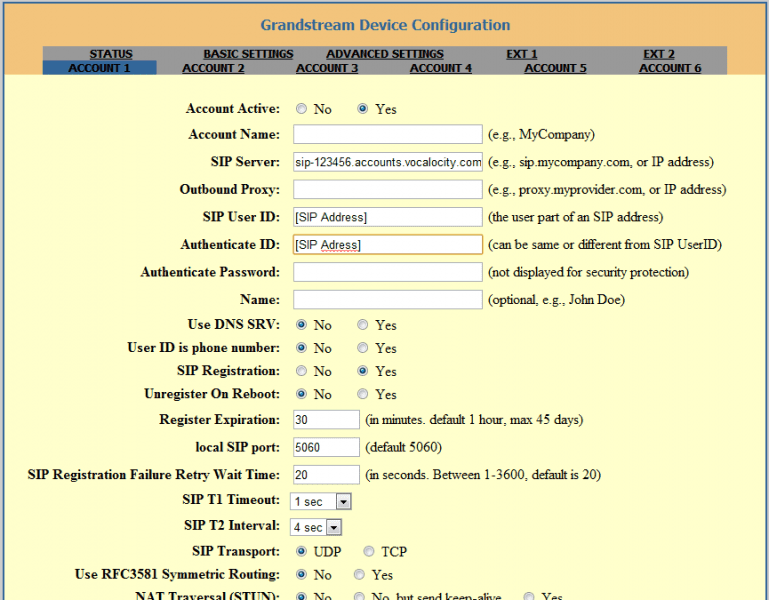 Ok, so the first step was to enter the IP address used by the phone into my browser, which brought up this rather crude looking window. The Vocalocity Customer Care rep then proceeded to help me through the arduous process of entering codes, unchecking/checking the appropriate boxes, etc. Once I updated all my settings, the phone rebooted on it's own. However, the LCD was still reading that it was unregistered and I was quickly assigned a case number for escalation of the issue. Immediately, I was transferred over to technical support for further assistance.
Technical Support then directed me to factory reset the device, as there was clearly a conflict going on between a previous setting and the ones they were trying to apply. In order to do this, I pressed Menu > Config > Factory Reset, and was then prompted for a passcode. The Vocalocity rep informed me this number was the 12 digit, alphanumeric MAC address of the IP phone (this number is located below the serial number on the underside of the phone). After hitting 'ok', there was a ten second delay before the phone hard reset itself and rebooted with a clean slate.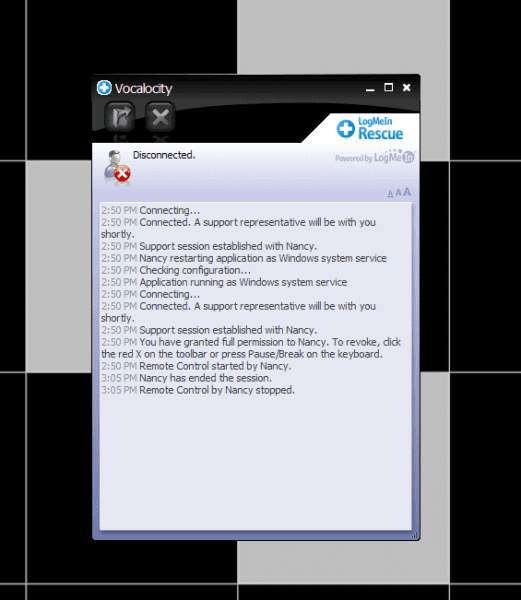 Third, I was directed by the technical support representative to visit LogMeIn123.com, and enter an ID number so they could assume remote control of my desktop. I was glad to let her take the reigns, as I suspected (and was correct) that all the steps taken before had to be performed again – I didn't quite feel like entering all the info back into that eye sore of a menu. While the rep entered the necessary information, I took the liberty of cleaning around my desk and grabbing a drink. Once I returned, the Grandstream GXP2020 began to reboot as it did before. Only this time, there was one big difference…
SUCCESS!!!
Next, I'll be checking out My Vocalocity and featuring some of the finer aspects of service with the business VoIP provider. All in all, bringing your own device is rather painless, and it certainly helps to be dealing with a company that's willing to walk through the steps to making sure that it's fully functional. If I had any complaints whatsoever, they'd only be the wait times, which weren't exactly brief. In any case, Vocalocity's service seems multi-faceted and I'm incredibly eager to check it out.
If you're already a Vocalocity customer, then let the world know about your Vocalocity experience in our review section! Here at GetVoIP.com, we pride ourselves on building a strong, informed VoIP community, and consumer opinions are instrumental in that process. Cheers!
Related Articles:
– Vocalocity Online Experience & Overview
– Vocalocity vs. 8×8 – Head to Head Comparison
– BYOD to Work: Advantages vs. Disadvantages
– Top 7 Restriction Free BYOD Business VoIP Providers