I was excited to see the Fonality HUD up close and personal. The Fonality HUD set the standard for all desktop integration and call center management software. My only regret was that I had but one phone to get for my company.
…Well, that turned out not to be the case. Fonality, as it turns out, does have some pretty inexpensive plans, $29.99 per month for unlimited minutes, plus great features, most importantly the HUD. But, as you may notice from our head to head comparison, Fonality's lowest tier is five lines. You can still order the service, but you'll still have five lines, whether you use them or not. You'll also get five phones, again, for free!
This is one of the many things I learned from my conversation with a Fonality rep as I signed up for Fonality's service today.
Unsurprisingly, Fonality makes use of their own HUD. It turns out that Fonality, the company, takes advantage of many of the great features of the HUD in their own business practices. The rep that I spoke with was remotely based in Seattle, and, in her time zone, it was early in the morning (it was early afternoon here in stately GV HQ).
It took more than a half an hour to sign up for Fonality, and, apparently, I was one of the more knowledgeable customers she's spoken to. She spends a lot of her day explaining the great features of the Fonality HUD to potential customers who are unfamiliar with that great product.
Although I didn't sign up for it, the Call Center is a popular solution. The call center option has unlimited call queues and multiple auto attendants. Managers get detailed reports and real-time states, as well as call supervision functions.  As with other Fonality products, the HUD integrates with Outlook, Salesforce, CRM and other popular contact management software.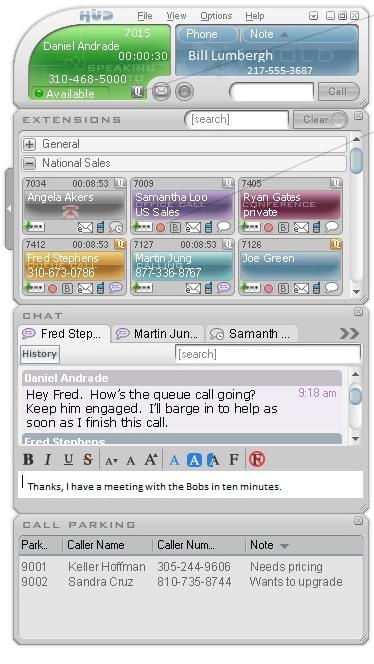 Related Articles:
– Get Free Phones From Fonality
– Fonality trixbox Business Telephony Software
– Fonality Reviews