Using only the the arrow keys of a laptop, your boss might be able to stroll around the office even when laying in bed from a different time zone. Enter (awkwardly) QB-82, an emaciated looking robot that makes up for it's stature with the powers of mobility and most of all, telepresence. Anybots Inc, have designed QB-82 for unified collaborations and "face time" around the office, with the unit especially geared towards remote workers. A litmus test for using this technology was conducted by Rachel Emma Silverman at The Wall Street Journal, her place of employment. Over the course of day, Rachel's physical presence was totally replaced by telepresence and a cumbersome, high-tech yet unstable form she entitled, "My Life as a Telecommuting Robot".
Telecommunication technologies are becoming big business, with the sale of telepresence and videoconferencing systems reaching a staggering $3 billion worldwide last year – up 34% from last year, as reported by Infonetics Research. It's no secret that the workforce is increasingly mobile and spread out – that being at "work" doesn't necessarily mean within the confines of a cubicle or office space. To meet that demand, companies such as Cisco and Polycom have been full steam ahead in development of these technologies.
There are also many remote technologies in the works, facing difficulties for one reason or another, whether it be cost or practicality. Some firms are setting up lighting and environments conducive to enhancing videoconferencing systems, placing HD video screens side-by-side, and also commissioning rooms that have U-shape style seating so that the end user may easily see all faces in the room. Cisco has gone as far as experimenting with holographic video, which produces 3D representations of participants for meetings – clearly this technology is on the pricey side and not widely used for that reason.
Returning to Ms. Silverman's experience, she found it to actually be horizon expanding as she'd interacted with more people than she would have on a regular work day. In fact, the small number of firms trying out telepresence robots say they spur more personal connections with remote workers. Phil Libin, chief executive of software maker Evernote Corp., uses a QB to check in on his Redwood City, Calif., office when he's away. "I'll roll around and chat with people. It gives you that casual, serendipitous connection," he says. Serendipity aside, there remains a lot of questions to using this technology.
Of course, there were downsides to Rachel Emma Silverman's robotic foray, like being hit in the "head" with a Nerf ball, "falling" in front of colleagues, "walking" into glass walls, getting "stuck" in the elevator, among other little skip-ups one might dread in any social situation; which would be amplified if they were to happen in front of everyone at work. Fortunately, the ridicule for the these troubles wont go beyond a week or so for Ms.Silverman, with a degree of understanding they were out of her control. Anybots is most likely still smoothing out some glitches besides those having to deal with being clumsy, as they've responded they are "very much aware of the technical problems" such a Wi-Fi coverage – also responding firmly that the robot "isn't designed to go into elevators".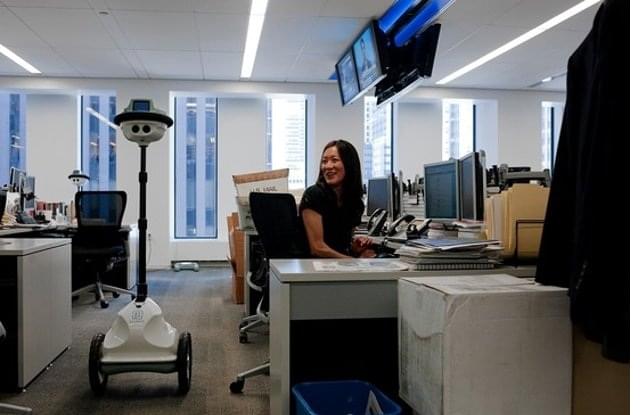 Possibly more than a humorous novelty, there are still many technological (amongst physical) hurdles and expenses to overcome for telepresence robots, and it'll be some time before the office is full of automated beings bumping into one another, sharing insights and information via the human effigies broadcasting on their 3.5″ video screen. Anybots has built only 130 of its "QB" robots and sold about 50 since they were available in 2010. Current models near about $10,000 from them, and there are other businesses developing similar telepresence robots.
Another interesting find, propagated by Cisco's research, was that employees tended to be more honest and open with a human-operated robot than with a living, breathing, human colleague right next to them. "It's unclear why", said David Hsieh, Cisco's Vice President of marketing for video and emerging business. David attributes it to the "novelty factor" and also that the robot doesn't quite have the benefit of body language, resulting in perhaps a more relaxed, open demeanor from the individual towards their rigid (which may apply even when their boss is there), automated counter-part.
There's a long and maybe even equal list of pros and cons to using telepresence robots, and until the latter is mitigated and the former is built on, odds are robots like the QB won't be totally replacing your boss any time soon. Disappointed? Well, you'll just have to do business the old-fashioned way for now and look forward to your boss "tripping" in a metaphorical and indirectly physical way over Elmer Fudd-esque booby traps when the time comes.
Related Articles:
– Vidyo Announces Free Videoconference Software for Business
– Polycom Incorporates AT&T Telepresence for Video Collaboration
–  Polycom HDX 7000 EagleEye Bundle Specs & Videos