All new customers with 8×8, Inc., are scheduled immediately, following sign-up, to have a live one-on-one call to aid in the configuration and setup of their phone service. Prior to this appointment, it behooves one to activate any IP phone they may have ordered through the business VoIP provider. Consult the manual for the specific phone you may be using, as hooking up all phones may vary of course. For a general idea of how this process may work, see my previous guide on activation and setup of the Polycom IP 550.
Also, if interested in porting numbers, 8×8 will assist you through this process during the scheduled live walkthrough as well. Before the actual appointment, see 8×8's number porting Checklist to make sure you are prepared for porting.
My appointment today was both a pleasant and helpful experience, clearing the air on all difficulties and questions I may have had. 8×8's T.I.L. agent took his time and answered everything in a professional, dedicated manner. Initially, I was having some minor problems figuring out how to setup my call groups, auto attendant, and various other options that weren't overtly clear.
Soon, all of my confusion was dispelled, and I can confidently say that I'm extremely familiar with the ins and outs of the system moving forward. Many of 8×8, Inc.'s options are brilliantly laid out in their Account Manager. Within it, you'll be able to manage intricate settings: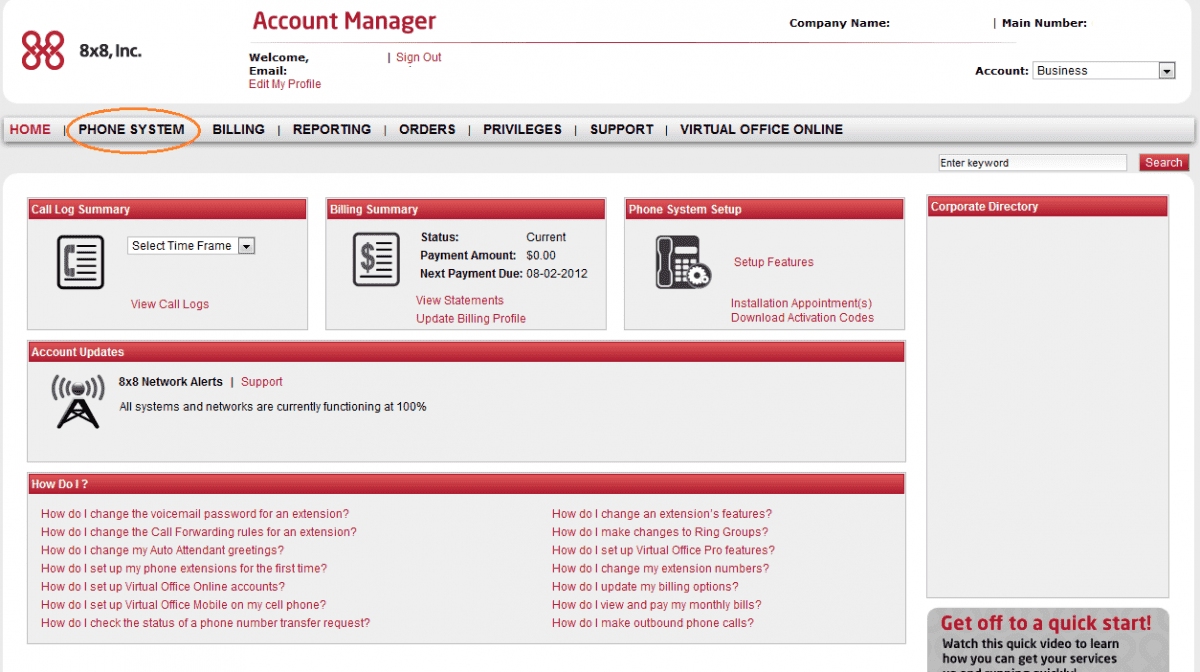 After logging into the account, you'll see a bunch of options to manage your account such as check billing, call logs, past and current orders, along with walkthroughs on certain actions such as setting up Call Forwarding. Next, you'll want to click the "Phone System" tab on the Account Manager homepage to prompt a screen with multiple logistic options.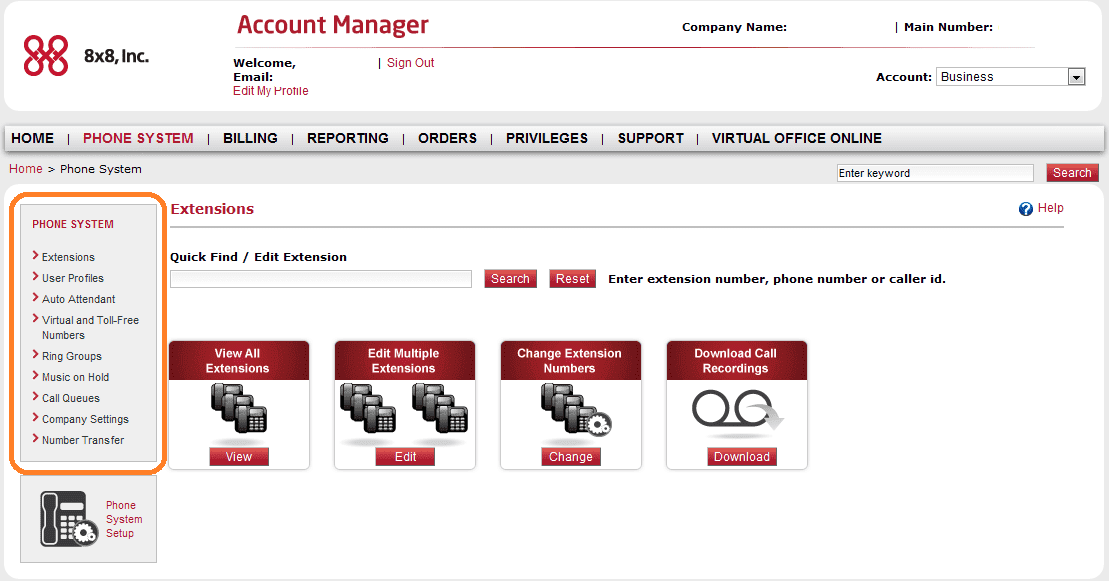 Highlighted in orange on the left-hand side, these options allow for full customization of your infrastructure whether that be the music played on hold, Auto Attendant (including detailed options like where calls will be forwarded after hours, business hours, greetings played, etc.), plus a ton of cool features to optimize and personalize your business.

Throughout my tenure with 8×8, Inc. (which has been slightly less than 3 weeks), I've been thoroughly impressed with their fantastic technical support, quality of calling, and overall commitment to the customer. Although the HD Voice included with my Polycom IP 550 is crisp and vibrant, it'd be nothing without 8×8's clear platform to utilize it on. Walking me through this appointment, their sales agent even went the length of dialing my IP phone while on it from a different number to ensure my hunt groups and forwarding were working properly: it's a more than safe assumption not many companies can compare to that caliber of service.
In closing, I've said it before and it bears repeating…8×8, Inc., is leading the pack in the business VoIP industry. They are currently looking into placing a custom logo on the LCD screen of my IP Phone, and considering their perfect track record thus far, I'm more than confident they'll be getting back to me promptly about it. The duration of my free trial period really has been in a grandiose sense of the word, priceless, as there's nothing more valuable than excellent customer service. It's the small nuances that go a long way and keep customers coming back — a science 8×8, Inc., clearly has devoted itself to and virtually mastered.
See Also:
– 8×8 Website Overview: Leading the Pack!
– 8×8, Inc., Signing Up for the Phone Experience