Based on Popularity and Sales, we compiled the Top 5 Polycom IP Phones
POLYCOM IP 550 PoE
Four lines
Backlit LCD display
Shared call and bridged line appearances
Busy lamp field
Presence/Buddy lists
2.5 mm Headset Jack
XHTML micro-browser for applications
Remote provisioning
Acoustic echo cancellation
Password login
4 Context-senstive Soft Keys
Voice Activity Detection
A popular item for Polycom, the Polycom 550 IP Phone is a great combination of value and features. The 550 also boasts HD Voice, Polycom's wideband audio with twice the voice clarity designed to produce sound free from echo and noise. The IP 550 is selling for as low as $221.00, coming with a rich feature set and up to 4 lines.
POLYCOM 331 IP PoE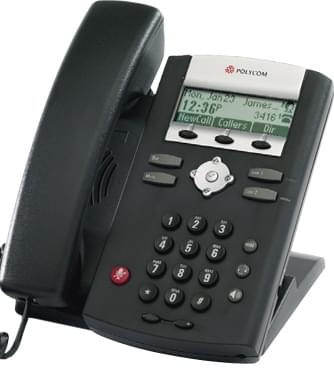 3 Context-sensitive "Soft" Keys
2 Line keys with Bi-color (red/green) LED
Polycom Acoustic Clarity
4-way Navigation Key Cluster
2 Volume Control Keys
Dedicated Hold/Handset Key
Hands-free speakerphone key
Microphone mute key
Dedicated 2.5-mm Headset Port
The Polycom 331 IP phone features Polycom's Acoustic Clarity Technology. Much like HD Voice, this patented technology also works to eliminate echo and make conversations as "natural as being there". The Polycom 331 is being sold as low as $93.00 and is a great buy as a middle of the road IP Phone for budget shoppers.
​Polycom 560 IP PoE
Four Lines
Backlit LCD Display
GigE-based network infrastructure
Multifaceted productivity enhancement
Polycom HD VoiceX
HTML micro-browser for Web application
Shared call/bridged line appearance
Busy lamp field
Presence/Buddy list
2.5 mm Headset Jack
4 Context Sensitive Soft-Keys
The Polycom 560 can be purchased for $280.00 if you shop around, and does not include an AC adapter. Similar to the 550, the 560 has GigE support, which is short for Gigabit Ethernet, transmitting frames and information at a high speed rate.
Polycom 335 IP PoE
HD Voice
Backlit Display
Two Port Ethernet Switch
XML Microbrowser
Shared Lines
Busy Lamp
Two Lines
2.5 mm Headset Jack
Microphone Mute Key
The Polycom 335 has varying prices, going as low as $96 for the savvy shopper. Many merchants are selling this model with and without an AC adapter, so make sure you're selecting the proper package. Note that if you are not using PoE, you will need an AC Adapter.
Polycom 670 IP PoE
Polycom HD Voice
Six Lines in Stand-Alone Mode (Up to 34 w/ Expansion)
Backlit Color Display
GigE Switch
Busy Lamp
Presence
2.5 mm Headset Jack
Microphone Mute Button
4 Context-sensitive Soft Keys
Desktop Paging
Voicemail Button
Selling for as low as $344.00, the Polycom 670 is the flagship IP phone of the manufacturer. On top of high speed capabilities, it features a rich, vibrant color screen. For the more intricate small to medium business, the applications of this phone are perfect for keeping up and on top of things.
See Also:
– Polycom Unified Communications Webinar
– Polycom Eagle Eye Director: Are You Ready For Your Closeup?
– Compare Leading Polycom Service Providers