It's Monday – businesses are tying up loose ends from last week and/or preparing to move forward with plans for this week. Unfortunately, some of them relying on RingCentral dealt with yet another minor outage today, in what is becoming dreadfully characteristic of the service provider. This marks the fifth service outage within the past few months, and the second outage in just as many weeks.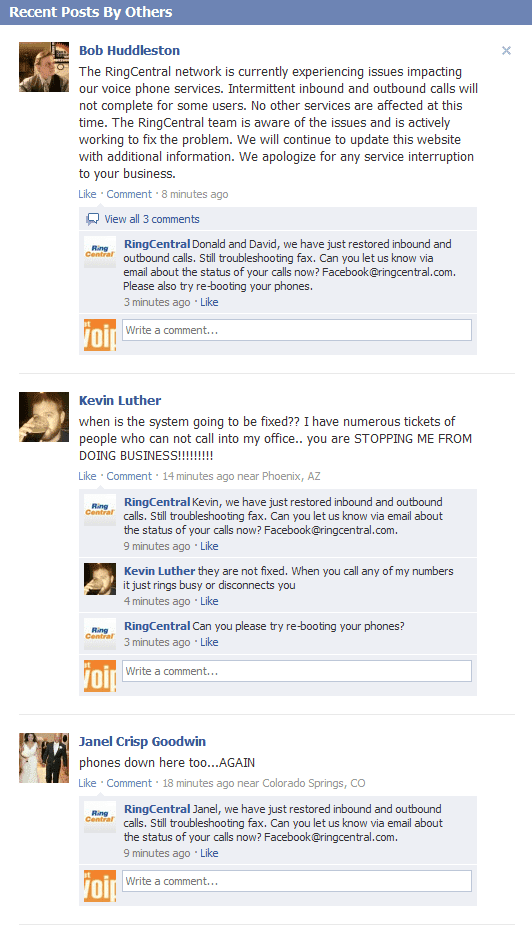 Response from customers on Facebook and Twitter ranged from outraged to frantic, and sometimes both. As per usual, customers were urged to reboot their phones once service was restored – a routine that is clearly becoming tiresome and all too frequent.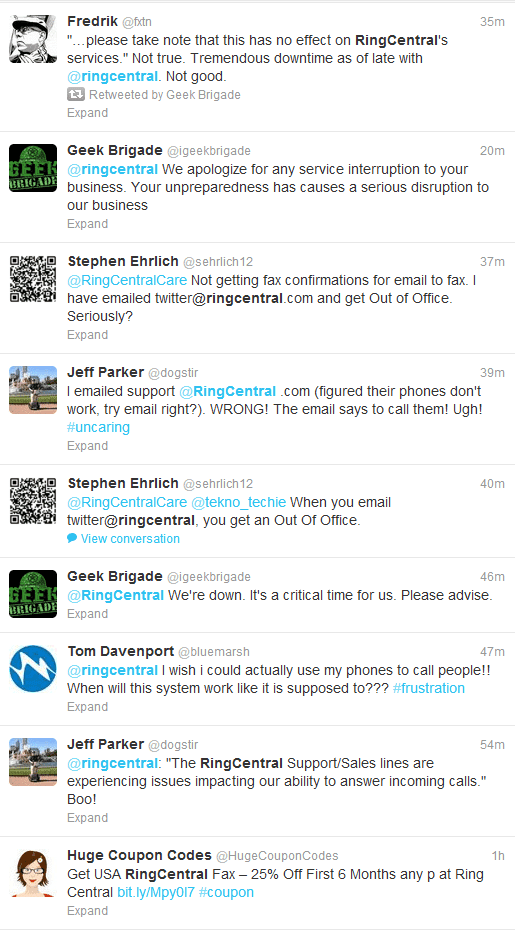 The general sentiment is not surprising; RingCentral continues to cost businesses money and cause widespread anguish. Of all the businesses that have experienced difficulties, I must say I feel most for the 'Geek Brigade' who noted they had lost service in a "critical time" – I'd be hard-pressed to imagine what this means, but I'm sure it's the equivalent of a nuclear meltdown, red lights flashing, just all out pandemonium. For what it's worth, Huge Coupon Codes are offering 25% off the first 6 months off any price at RingCentral (as indicated above). Before jumping on those savings, it's probably best to ask if 100% off would be worth the risk of facing the distress and uncertainty that comes with a total system outage.
With an upcoming IPO, there still remains many issues that RingCentral and CEO Vlad Shmunis must address in coming months. The business VoIP provider has raised a combined $200 million from investors since 2003, enlisting more than 200,000 businesses in their service. Though the possibility of an IPO is still on the horizon, it's difficult to say whether the sun will set or rise on a horizon that has often been obscured by dark clouds of unreliability.
If you're a RingCentral customer, we'd love to hear your feedback and experience in our review section found here.